Medal of Honor Heroes PSP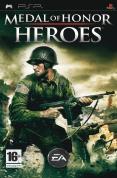 Medal of Honor Heroes, available exclusively for the PSP, will give gamers the chance to take all the epic, authentic World War II action of Medal of Honor on-the-go. While building on the key tenets of the franchise including historical accuracy and authenticity, Medal of Honor Heroes is the newest addition to the critically-acclaimed Medal of Honor franchise which was credited with pioneering the First-Person Shooter WWII genre when it debuted for in 1999. This marks the exciting debut for a Medal of Honor game on the PSP system.

With an entirely unique storyline and PSP-specific feature set, players will experience a totally new single player campaign and choose from six different Multiplayer modes within 15 different maps, while participating in wireless Multiplayer sessions with up to 32 players. Or choose to play with up to 8 players across the room in a local Ad hoc game. "Quickplay" missions in skirmish game mode, allow players to jump right into the action or customize mission scenarios for added re-playability. Relive your favorite Medal of Honor moments by unlocking over 20 classic characters to use in multiplayer games.
Rent Medal of Honor Heroes on PSP

Buy ex-rental and earn 12 points
Reviews





Great little shooter for the psp - it's never going to be as good as the consoles obviously but EA did a good job of this one. An FPS without the second analogue that still works quite well. By the second mission you'll be more than comfortable with the controls. Good graphics and sound although the soldiers in your sqaud can get annoying shouting the same stuff a bit too often. The only thing the game falls down on is being so short. I completed it (on easy admittedly) in just over 2 hours. Definitely one to rent not buy. I was going to have a dabble with the online fighting but the EA servers were reportedly down - maybe they've been abandoned as the game is around 6 years old now. I'm not normally one for online gaming so it didn't bother me too much.