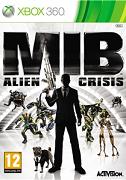 Rent Men In Black Alien Crisis on XBOX360





RENT IT
Released: 25 May 2012
Genre: Action / Adventure

We work for highly funded, yet unofficial government agency; our mission is to monitor extra terrestrial activity on Earth. We are the Men In Black.Now it's your turn to suit up as one of us to eliminate the scum of the universe, using an arsenal of futuristic weaponry, incapacitating devices and space-age technology. Your mission is to uncover a new alien plot, scan and identify aliens in disguise, neuralize any accidental civilian human witnesses, and defeat all enemies in order to protect Earth. Experience the over-the-top firepower of the MIB and intuitive cover mechanics in this exciting rail shooter gameplay.The weapons, attitude, over-the-top aliens and humor of the Men In Black franchise drive the aesthetics and attitude of this expanded universe game. Visit familiar landmarks and locals to battle unexpected alien presences.
Leave a review


A cool game

good for kids but if you play inverted dont bother getting it because you cant change it

The game only takes about 4 hours to complete from start to finish. It is an good kids game. It is fun to play and wont take to long.