Metal Gear Rising Revengeance XBOX360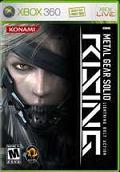 Metal Gear Solid: Rising stars Raiden one of the most popular characters within the MGS universe. Raiden made his debut as a playable character in Metal Gear Solid 2: Sons of Liberty for PlayStation 2, and appeared as a non-playable cyborg in Metal Gear Solid 4: Guns of the Patriots for PLAYSTATION 3.
Rent Metal Gear Rising Revengeance on XBOX360


Details:
Released: 22-02-2013
Rating Info: 18
Average Rating:







"As-New" Game

Buy ex-rental and earn 12 points
Reviews





Absolutely brilliant game, gorgeous graphics, addictive gameplay and and as always with metal gear games a good narrative. I highly recommend this game, though I warn it does have somewhat a steep learning curve, least in my view.





This game is absolutely amazing! The combat never gets old and it extremely satisfying, the story is just a crazy adventure of terrorists and cyborgs. This is definitely worth renting. The beginning is boring but stick with it!





This game has a good feel to it lots of action good sword battles and minted moves although the boss battles seem impossible at times but once you know what to do its a case of hoping your right





Great game, amazing graphics and awesome cutscenes. Had very difficult boss levels which really challenge you, which I really loved but found slightly irritating haha but overall amazing game.





best hack n slash game ever!





Bit short but amazing





its not to bad





Graphics were good, reasonable game.





This is not so bad if you like sword fighting, to me it got boring after a while...B+





A good game, follows a lot of the Sons of the Patriots story. It is however not a Metal Gear game, its more of an hack and slash with some stealth involved. Worth a rent.