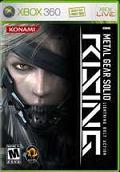 Rent Metal Gear Rising Revengeance on XBOX360





RENT IT
Released: 22 Feb 2013
Genre: Action / Adventure

Metal Gear Solid: Rising stars Raiden one of the most popular characters within the MGS universe. Raiden made his debut as a playable character in Metal Gear Solid 2: Sons of Liberty for PlayStation 2, and appeared as a non-playable cyborg in Metal Gear Solid 4: Guns of the Patriots for PLAYSTATION 3.
Leave a review


Absolutely brilliant game, gorgeous graphics, addictive gameplay and and as always with metal gear games a good narrative. I highly recommend this game, though I warn it does have somewhat a steep learning curve, least in my view.

This game is absolutely amazing! The combat never gets old and it extremely satisfying, the story is just a crazy adventure of terrorists and cyborgs. This is definitely worth renting. The beginning is boring but stick with it!

This game has a good feel to it lots of action good sword battles and minted moves although the boss battles seem impossible at times but once you know what to do its a case of hoping your right