Mortal Kombat vs DC Universe XBOX360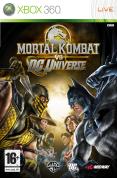 For the first time ever Scorpion, Sub-Zero and the Mortal Kombat warriors battle with Batman, Superman and other popular DC Universe superheroes. Choose your side and challenge your opponents with an all-new fighting system including Freefall Kombat and Klose Kombat along with dynamic multi-tiered environments. Plus, pick your favourite character from Mortal Kombat or DC Universe and pursue a fighting adventure in the new single-player mode with an intertwined storyline and two unique perspectives.
Rent Mortal Kombat vs DC Universe on XBOX360

Buy ex-rental and earn 18 points
Reviews





a good game, but gets bored after a while playing. where is the MARVEL HEROES???





I was sceptical about this game at first as this kind of mash-up between franchises normally don't go well. But this Game is a solid fighter that i would recommend to anyone who enjoys Mortal Kombat despite the lack of Blood or too anyone who enjoys fighters in general