Moto GP 07 XBOX360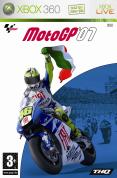 Experience the sheer passion, excitement and SPECTACLE of MotoGP, the most thrilling motor sport in the world! MotoGP 07 brings the excitement and energy of the fans and media into the game world like never before.

MotoGP 07 is the fifth game in the critically acclaimed MotoGP series and the definitive motorcycle racing game for the Xbox 360 and PC. Building on the success of GP'06, the game focuses on expanding the atmosphere and depth of the series, capturing the passion, excitement and spectacle of the sport, as well as rounding out the whole experience into the most accomplished racing game on Xbox360 and PC.
Rent Moto GP 07 on XBOX360

Buy ex-rental and earn 18 points
Reviews





All round a good game, definately for the simulation fans rather than arcade style racing. Very realistic game, though a little difficult to pick up and play straight away. Graphics aren't the best and sound can be tedious though if you like a game you can totally master this is for you.





Been a huge Moto GP fan since the first game on the Xbox...and was not dissapointed in this one. You still get that feeling of sheer joy when you hit a corner perfectly. Graphics which are not always important for me were excellent. My only complaint would be the audio which sounded rather muted.