NBA Ballers Chosen One XBOX360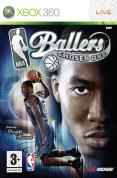 The NBA Ballers Franchise returns to the court with NBA Ballers: Chosen One, featuring over-the-top and fully interactive basketball action that gamers have come to expect from Midway since the introduction of NBA Jam in 1993. More than 65 NBA superstars come to life in Chosen One as the franchise continues its legacy as the industry leader in athlete likeness, putting you up-close and personal as every "Shut 'em Down" super move or "Act a Fool" combo unfolds! Work your way through the competition and get respect from the greatest players in the world as you progress through challenging single-player episodes or online against the masses.
Rent NBA Ballers Chosen One on XBOX360

Buy ex-rental and earn 18 points
Reviews





i think this game is pretty good, if your not a basketball player i wouldnt say get this, but for a game thats different to play than fifa or gta i would get it .. i had alot of fun playinn it to





ok basketball game. i found it hard but im not good at basketball game. it an easy 900GS if you are good at basketball games...