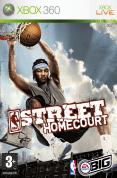 Rent NBA Street Home Court on XBOX360





RENT IT
Released: 23 Mar 2007
Genre: Sport

NBA STREET returns with a brand new game engine only possible with the power of next generation console systems, allowing the franchise to once again raise the bar with innovative gameplay and cutting edge visuals. With a new animation engine and control system, we put the ball in your hand and allow you to show off your own style by creating hundreds of tricks on the fly. Soar through the air to execute gravity-defying dunks and double dunks or step off the back of your teammate for a jump-off dunk. NBA STREET Homecourt merges legendary playgrounds with the hometown courts of your favorite NBA stars, featuring 360 degrees of view. Plus, the NBA's best players are all rendered in meticulous detail, making true athlete likeness a reality and putting you up close and personal with every move and moment. Set roots in your own homecourt as an anonymous baller with big dreams. Earn a name for yourself and garner respect as you progress along your hometown journey and become a legend. Any way you shake it, NBA Street Homecourt allows you to play like you never dreamed you could, right from the first time you pick up the controller.Go from an unknown talent to a playground legend and put your homecourt on the map by dominating courts from coast-to-coast. Create a baller, improve his game, and feel his confidence build after every win. It's your turn to take on the NBA's best and walk away a hero.Take Your Game Online: Represent your homecourt online with your created player against the nation's greatest ballers-anywhere, anytime.
Leave a review


This is a fast paced game but the controls are so frustrating at times.It's quite hard untill your player is leveled up.If you can put up with it early on then it,s an easy 1000gs.Excellent soundtrack.

A good fun game even though I dont like basketball but couldnt help but have fun pulling of some superb tricks which kept me glued to the game. Good fun. Well worth renting.

a great fun game for short bursts. The multiplayer is pretty good as well with a mate. The game is just like fifa street but with basketball instead, with its outrageous tricks and shots. Worth a rent if your interested in basketball, but not to buy unless your a fan