New Super Mario Bros Nintendo WII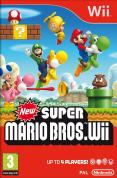 Developers at Nintendo have dreamed of creating a simultaneous multiplayer Super Mario Bros. game for decades. The Wii console finally makes that dream come true for everyone holiday season 2009. Now players can navigate the side-scrolling worlds alone as before or invite up to three others to join them at the same time on the same level at any point in the game for competitive and cooperative multiplayer fun. With the multiplayer mode, the newest installment of the most popular video game franchise is designed to bring yet another type of family entertainment into living rooms and engage groups of friends in fast-paced Super Mario Bros. fun.
Rent New Super Mario Bros on Nintendo WII

Buy ex-rental and earn 15 points
Reviews





Brilliant game! really enjoyable Great fun Loved it!!!





Good fun and easy for new people to play. Worth buying and having in your collection.





Really good fun game especially with two players - it's a bit hard in places but true to the mario spririt





Lots of levels. Very entertaining





nice bit of old school,revamped.everyone loves mario





A fun return to 2D and a vast improvement on the lacklustre New Super Mario Bros. DS. The game is a lot of fun with plenty of references to Mario's past adventures and some fiendish level design. The multiplayer modes can be pleasingly chaotic and really add an extra level of fun to what is already a great game. Whilst the game can be hard playing it in multiplayer provides the opportunities for continues and extra lives for weaker players. This can help soften the blow when confronted with a particularly tricky stage.





Brilliant Game, totally addictive and the multi person mode is hilarious. It may say ages 3 and up on the box but this game is not just for the kids! I am fast approaching 60 while my neighbours daughter is 16 and we both love playing it so much that we had to keep ours - Another Great Nintendo Hit!!!





What I see as an excellent classic Nintendo game.. haven't played Mario since the original Gameboy version. Full updated and with the times but remains a classic.





I was really excited about playing this game because I've grown up playing Super Mario games and the reviews are mostly positive. I was slightly disappointed though. While it is impressive how they have kept the same sort of charm as the original mario games, this game doesn't cater for all ages, because it can be really hard! And although I do like a challenge, it does get quite frustrating. I would recommend this game though, as long as you take your time, and definitely play with somebody else, it's a lot more fun that way.





My 8yr old son loves this game,but i find it a little frustrating.I think it's because im rubbish at it. "Its one of the best Wii games i have ever played" 10/10 Caleb "Good,But not as good as Mario Galaxy" 8/10 Me