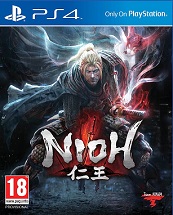 Rent Nioh on PS4





RENT IT
Released: 08 Feb 2017
Genre: RPG / Strategy

In Nioh, players will traverse war-torn Japan as William, a blonde-haired swordsman whose background as a fierce warrior and seasoned knowledge of the blade allows him to survive in the demon-plagued land of the samurai. Known as Yokai, these demons inhabit a number of dangerous locations and lie in wait in the shadows to ambush unsuspecting victims. Players will also face off with other samurai in supernatural sword battles and intense, multi-target engagements offering a level of difficulty that will truly test even the most hardened samurai's skills, patience, and strategy.
Leave a review


Hard as Hell!! This game looks great, the mechanics are great and the story is great, I however am not great. Through no fault of the game I just could not get it, my brother however loved it. This is his score, I myself could only score up to the first boss, He is a massive …
See full review


A really good Game has a dark souls feel about it

amazing game basically Onimusha fused with Dark souls, incredibly challenging but fair.