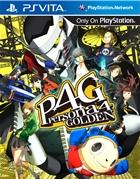 Rent Persona 4 Golden on PSVITA





RENT IT
Released: 22 Feb 2013
Genre: RPG

Persona 4: Golden is an enhanced and extended version of the highly acclaimed, award-winning RPG Shin Megami Tensei: Persona 4. It offers beautifully remastered visuals, 1.5 times the amount of voiced dialogue of the original release, and a new online dungeon rescue feature. Persona 4: Golden also offers a massive amount of new content-new Personas, new story events with an all-new character, striking new anime cutscenes, and much more!A rumor has been spreading through the high school of a rural town: staring into the darkened screen of a powered-off television on a rainy night will reveal your one true love. But investigating this rumor uncovers a dark truth, and leads to an adventure through the strange world waiting on the other side of the TV screen.
Leave a review


Slow start, but after that became one of the best games I have ever played.

This is easily the best game on Vita, with over 160 hours into my US copy and another 50 already in my UK copy, this is easily in my top 5 games of all time, if you have a Vita you need this game!