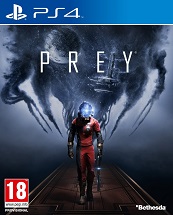 Rent Prey on PS4





RENT IT
Released: 05 May 2017
Genre: Action / Adventure

In Prey, you awaken aboard Talos I, a space station orbiting the moon in the year 2032. You are the key subject of an experiment meant to alter humanity forever – but things have gone terribly wrong. The space station has been overrun by hostile aliens and you are now being hunted. As you dig into the dark secrets of Talos I and your own past, you must survive using the tools found on the station, your wits, weapons, and mind-bending abilities to defeat the Typhon alien threat. The fate of the Talos I and everyone aboard is in your hands.
Leave a review


Great fun and makes you jump.

The first third of Prey is a genuinely jumpy survival horror game, in the second third you are suddenly over powered and have real fun taking revenge on the Typhon who tormented you in the first third of the game. Then there is final third, which is a real drag or pointless …
See full review


Pretty good game. Worthy of renting.