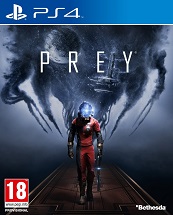 Rent Prey on PS4





RENT IT
Released: 05 May 2017
Genre: Action / Adventure

In Prey, you awaken aboard Talos I, a space station orbiting the moon in the year 2032. You are the key subject of an experiment meant to alter humanity forever – but things have gone terribly wrong. The space station has been overrun by hostile aliens and you are now being hunted. As you dig into the dark secrets of Talos I and your own past, you must survive using the tools found on the station, your wits, weapons, and mind-bending abilities to defeat the Typhon alien threat. The fate of the Talos I and everyone aboard is in your hands.
Leave a review


Very good game. Enjoyed it from start to finish

Great game gripped from start to finish. not an easy plat as you have to go back through. But gameplay is good and enjoyable.

Good game, pretty time consuming. Large map to explore. Decent action and the occasional scary bit.