Professor Layton And Pandoras Box Nintendo DS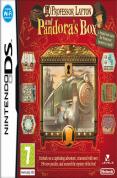 Puzzle master Professor Layton and his apprentice, Luke, have stumbled upon another mystery. It's up to them to navigate their way through numerous puzzles to determine who - or what - caused the death of Professor Layton's mentor, Dr. Schrader. Was it the mysterious Pandora's Box, rumoured to kill all who open it? Professor Layton and Luke find a clue that begins their adventure: a train ticket for the Molentary Express.
Rent Professor Layton And Pandoras Box on Nintendo DS

Buy ex-rental and earn 12 points
Reviews





Very similar to the old one, but the old one was very good. An excellent brain game that requires lots of brain cells and a little help from google!