Professor Layton And The Curious Village Nintendo DS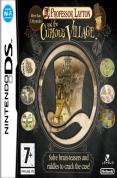 Put your puzzle-solving prowess to the test and play detective in an adventure where only successfully solving brainteasers will enable you to crack the case! Professor Layton and the Curious Village for Nintendo DS features more than 135 puzzles that are sure to tax even the most ardent fan of cryptic challenges.

As the famous Professor Hershel Layton, you've been tasked with solving a mystery that has long plagued the good people of St. Mystere. At the request of the noble Lady Dahlia, you arrive in the village to investigate the details of a mysterious will and quickly discover the locals all share one obsession - puzzles.

From classic conundrums to mathematical riddles, everyone you meet in St. Mystere is itching to set you a brainteaser that you'll have to solve on the DS Touch Screen. One minute you might be trying to figure out how to transport chicks and wolves together across a river on a raft, the next you could be attempting to arrange matchsticks so that you create an image by moving two matches. A gradually increasing difficulty level means everyone can ease their way into the challenges before the really bewildering puzzles begin.
Rent Professor Layton And The Curious Village on Nintendo DS

Buy ex-rental and earn 15 points
Reviews





Great game for anyone who likes logic pluzzles. WIth 120+ Puzzles you can get your teeth into, you might find that the bus journey goes a little to quick for you to be able to solve some of them! The graphical style of the game fits nicely with the Anime type animation, and the voice acting fits in well. Puzzles are wide ranging, and are given to you in most cases. The others are found by tapping bits of the screen. It became a little frustrating towards the end trying to find the last few hidden puzzles where it asks you to tap on some random but of architecture or object. All in all i would recommend people play this game. But those who get irittated by logic puzzles should stay clear as the hard ones might annoy.





Great game! Really works your brain.