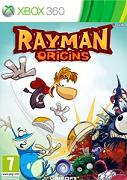 Rent Rayman Origins on XBOX360





RENT IT
Released: 25 Nov 2011
Genre: Action / Adventure

Michel Ancel, celebrated creator of Rayman, Beyond Good & Evil and the Raving Rabbids returns to his roots to bring us Rayman Origins: a high-definition, 2D side-scrolling, platforming adventure in full 4-player co-op. Play Rayman Origins and discover or rediscover the magical universe and legendary 2D gameplay that captured the hearts of millions of fans. Grab three of your closest friends and prepare to enter the Glade in this classic-style 2D side-scrolling platform game. Rediscover Rayman in Rayman Origins!Storyline:When the Glade of Dreams is overrun by "nefurrious"Darktoons, the Fairy Council hastily invokes Rayman to save the day; but the hero of light isn't quite all there...To help him, Rayman teams up with his best friend, Globox, and two crafty wizards, the Teensies. Together, the world's most hilarious team of heroes will need to restore peace to the Glade or watch as their beloved home vanishes like a bad dream...
Leave a review


good game not so good at the start until you get the use and speed of the buttons done at time then it becomes alot better and then becomes repetitive towards the end. nice little game for when your bored and need some bright colours

Fantastic and hilarious platformer, especially in couch co op with a friend!

Deceptively challenging game, don't be fooled by the cartoonish nature and 2-D graphics.This game harks back to the old SNES classics like DK, or SMB.Great artwork, and addictive gameplay, even though it sometimes has you wanting to throw your controller in frustration, …
See full review