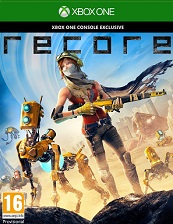 Rent Recore on XBOXONE





RENT IT
Released: 16 Sep 2016
Genre: Action / Adventure

From the legendary creator Keiji Inafune and the makers of Metroid Prime comes "ReCore", an action-adventure masterfully crafted for a new generation. As one of the last remaining humans on a planet controlled by robotic foes bent on your destruction, you must forge friendships with a courageous group of robot companions, each with unique abilities and powers. Lead this band of unlikely heroes on an epic adventure through a mysterious, dynamic world. You can't save mankind alone.
Leave a review


Recore has very few flaws if you have an itch to play zelda but dont own a nintendo try this, the dungeons are quick but enjoyable you often play them a few times theres lots of hidden gems that make you want to continue. the few flaws are the massive plot holes in the story …
See full review


Its a while since a decent platformer has come along. Recore is a fun game with great graphics. However it is beset with glitches, poor loading times (dreadful). A great game to rent. Not serious at all no guides or walkthroughs needed

Great game. Brilliant story. Fantastic game mechanics. Beautiful world and the built really well. No invisible walls. Only had 1 game play ending glitch when i fell through the floor but that tends to happen in most games if you play them enough. 5 out of 5 stars.