Red Dead Redemption XBOX360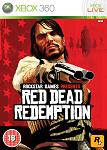 At the turn of the 20th century, when the chaotic badlands began to give way to the expanding reach of government and the spread of the Industrial Age, a former outlaw, John Marston, is sent across the American frontier to help bring the rule of law.
Rent Red Dead Redemption on XBOX360

Buy ex-rental and earn 12 points
Reviews





What a fantastic game. Who knew a western themed GTA could be so awesome. The game is beautifully laid out, with a great story and lots of interesting characters throughout. I loved the Tarantino style ending and I can't wait for the next Red Dead title.





Absolutely an amazing game, absolutely massive game, definitely a game that you rent and don't give back for quite a while. Graphics are great and fluid, the cut scenes can get really annoying at times. Game starts slow but stick with it and you will soon enjoy.





Quality game and great story, ending was brilliant. Multi player is great too and with the new expansions coming I will be hitting the keep button.





BEST. GAME. EVER. About cowboys. This is one of the best games you can play. Effectively GTA, but cowboy in the early 1900s, horses, hunting bears, killing people with awesome guns, bars, gambling, great missions, I had fun the whole way through. Some may argue it's repetitive, but this takes a dump on most sandbox games and actually made Jesus cry with joy.





good game,but for me rent only





The best game i have played this year. GTA on horse back, quality, huge map, loads of missions and side missions. A lot of game play for the 100%.





Awsome Game one of the Best i have played for a long long long time!





Awesome game. The story is well constructed and moves at a good pace. There is lots of side challenges and things to do. The hideouts are a little short but still good. Multiplayer free roam can be a little frustrating though, but the online matches themselves are good. Would recommend to everyone !





Rockstar have outdone themselves again. Great single player campaign, fun multiplayer. Nice animation on the horses