Ridge Racer 3D (3DS) Nintendo 3DS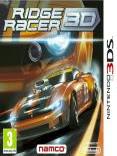 ***Please Note: 3DS titles are not compatible with standard Nintendo DS consoles***

The Ridge Racer series returns to set the racing world on fire with brand new features, breathtaking stereoscopic 3D visuals, a wider variety of machines, new environments, expanded customization and updated drift mechanics. Ridge Racer 3D will be the hottest racing game on the Nintendo 3DS.

Drift through hairpin turns at blistering speeds to edge out the rest of the pack with powerful drift-tuned cars. Using the stereoscopic 3D power of the Nintendo 3DS, players will be able to experience a level of intimacy with the on-screen races like never before. Players can now accurately judge the distance between them and the competition with 3D depth of field for some of the most intense arcade racing available.
Rent Ridge Racer 3D (3DS) on Nintendo 3DS

Buy ex-rental and earn 24 points
Reviews





My 9 year old grandson loved this game and wanted to keep it forever.