Rumble Roses XX XBOX360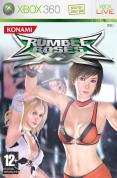 Featuring over 20 female characters, Rumble Roses XX is a graphically stunning wrestling title featuring a wide range of throws, counter-moves and pin-downs. Each character has a distinct personality, from Cow-Girl Dixie through to school girl Reiko and wicked nurse Anesthesia. In addition to the staple throws, slaps and pins of the wrestling genre, each girl has specific attacks linked to their overt personalities and can also string together a number of moves to create formidable combinations. In keeping with the glitzy showcase nature of the game, the girls also have taunt moves to rile their opponents and to get the crowd going.


Rumble Roses XX features a number of solo modes wherein players can pummel their way through the game's many characters and unlock additional foes. There are also a number of additional competitions to put the player through their paces, each giving the player a chance to access the hundreds of possible attacks the game can produce.


Multi-player action is also included via a four-player Tag team competition, wherein two teams of two girls can fight against each other. The Tag Team mode also gives players access to previously inaccessible moves as the pairs work together. Rumble Roses XX will also make use of the Xbox Live online gaming service, with one-again-one bouts or team battles to be enjoyed against like-minded fans.
Rent Rumble Roses XX on XBOX360

Buy ex-rental and earn 18 points
Reviews





If you enjoyed DOA Beach Volleyball because it was a good game, that doesn't necessarily mean you'll enjoy this. However if you liked DOA because of the pervy bits RENT THIS!!! - Average game. (TAG Rez117)





O MY GOD NO!!!!!!! This is just porn for your computer, what a load of rubbish. Do not even think about getting this game unless you are really perverted and like animated women??