Rune Factory 2 A Fantasy Harvest Moon Nintendo DS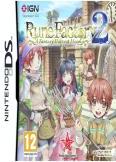 Rune Factory 2 is set several years after the first game. The evil Sechs Empire has been defeated, and the Kingdom of Norad is once again at peace. Things may not stay that way for long, however, as dark premonitions foretell of dangers to come. It's up to player to uncover the source of these premonitions and bring peace to the kingdom once more.
Over the course of the story, players will build and develop a farm, befriend townspeople, raise monsters, take on quests, and find a wife. Rune Factory 2 offers innovative Touch Screen controls, easy-to-use menus, and an all-new compelling storyline.
In a first for the Rune Factory series, the story of Rune Factory 2 is multigenerational. Players begin the game as Kyle, a strange man who comes to Alvarna Village. Eventually, players will take on the role of Kyle's child, opening up a whole new adventure. It's an innovative feature that allows players to follow the story of their family and the townsfolk over two generations!
Rent Rune Factory 2 A Fantasy Harvest Moon on Nintendo DS

Buy ex-rental and earn 12 points
Reviews





If you've played and enjoyed the Harvest Moon series before you'll know what to expect. This is a slow burning game where progress takes time. You'll farm, build relationships, battle and tame monsters and date with the aim of marriage and having a child. Once you achieve this the game opens up a new range of possibilities, challenges and locations. What could be repetitive becomes fresh, interesting and dangerous again. Once you get sucked into the game's world it's an addictive and rewarding experience.