Scribblenauts Nintendo DS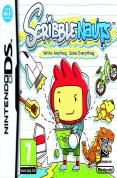 In Scribblenauts, the player uses the touch screen to help their character, Maxwell, acquire the starite in each level by solving a series of puzzles. The twist is, in order to solve the puzzle, the player uses the stylus and notepad to write down the word for any object that comes to mind in order to reach the goal. Every object behaves as it would in the real-world, and the player can combine countless objects together to create completely new behaviours. Every level has more than one written object to use as a solution, opening up the game to unlimited replay.
Rent Scribblenauts on Nintendo DS

Buy ex-rental and earn 15 points
Reviews





Good game which uses your imagination to solve. Controls can be a bit frustrating at time, trying to pick objects and instead moving the character into an abyss. A lot of puzzles to solve too.





Scribblenauts is a very good idea for puzzle game write what you want and it appears. Trouble is it doesn't always pull it off and the controls could be better. But these are minor faults as scribblenauts does indeed deliver a very good and unique game. Its very tough mind and you probally never complete all the puzzles three times in a row for the challenge setting ad probally not even one time in a row for the normal mode. If you want a fun and varied challenge with this game you have come to the right place.