Scribblenauts Unlimited Wii U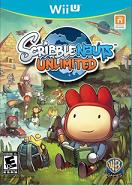 Take your imagination on a wild ride in Scribblenauts Unlimited on Nintendo 3DS.
Explore a huge side-scrolling open world filled with robust puzzles, and solve them using the most powerful tool in Maxwell's universe: your imagination!
Step into an open world and crack hundreds of brain-teasing challenges using anything you can think of.
If you need to climb a tree, simply type in "ladder" using the Touch Screen, and watch as the item appears right away.
Be more adventurous and try out a grappling hook, jet pack, or any other inventive solution that pops into your head!
Test your ingenuity across dozens of levels, with unlimited hours of fun from creatively solving puzzles and completing challenges.
Find inspiration in a comprehensive array of hints, and use the new Starite Vision helper to highlight nearby starites and starite shards for you to collect.
Use StreetPass to check out the creative ways others have solved puzzles and share your smart successes with other Scribblenauts Unlimited players!
For the first time in the Scribblenauts series, learn Maxwell's story as you play.
Find out more about his parents, his 41 siblings – including twin sister Lily – and even discover how he got his magical notepad.
Rent Scribblenauts Unlimited on Wii U


Details:
Released: 06-12-2013
Rating Info: 12+
Average Rating:







"As-New" Game