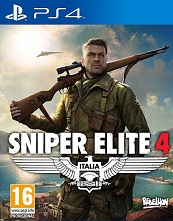 Rent Sniper Elite 4 on PS4





RENT IT
Released: 14 Feb 2017
Genre: Shooter

Set in the aftermath of its award-winning predecessor, Sniper Elite 4 is a third person stealth/shooter that continues the series' World War Two heritage by transporting players across the beautiful Italian peninsula, from sun-drenched Mediterranean coastal towns, to colossal Nazi mega structures, daunting forests and giddying mountain monasteries inspired by Monte Cassino.
Leave a review


Good gameplay but gets a bit repetitive at times

Decent

Great fun! Never get bored of the x-ray kills!