Sniper Ghost Warrior 2 PS3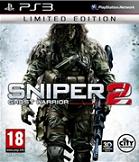 Takes the bulls-eye precision of its best-selling predecessor to new and exciting heights. Powered by the CryENGINE 3 engine, the missions of Sniper: Ghost Warrior 2 are graphically stunning and more challenging as you once again step into the ghilliesuit of a special ops sniper to take down the enemy.
Main character bio:
Full Name: Captain Cody Anderson
Codename: "Sandman"
Nationality: American
Occupation: Private Security Consultant (ex-Delta Force Sniper)
Background: Anderson grew up in the cold wilderness of Alaska, where he learned the skills of hunting, marksmanship, and tracking from an early age. After his father was killed in action while serving with the Marines in Vietnam, Anderson was raised by his Native American mother. From the time he was ten years old, Anderson hunted wild game to put food on his family's dinner table. Anderson joined the Marine Corp after high-school and trained as a scout-sniper, attached to the elite Marines' elite "Force Recon" unit. Anderson is descended from a long line of American soldiers. He was raised in the tradition of patriotism and service to his country.
Rent Sniper Ghost Warrior 2 on PS3

Buy ex-rental and earn 12 points