Sonic Riders Zero Gravity Nintendo WII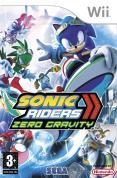 The fan-favorite Sonic Riders series returns with a whole new form of chaotic racing by manipulating gravity itself! These gravity-altering powers can transform walls into tracks, or create a "black hole" that sucks you through for the ultimate speed boost, and allows for an entirely new way to gain a leg up on your competitors. From illuminated highways in a bustling metropolis to the outer reaches of space, you will race at the speed of light on 16 dynamic courses. Sixty different vehicles allow you to grind rails and pull off daring tricks on futuristic tracks, including solar loop-de-loops, height-defying vertical drops and tons of other edge-of-your-seat moves. As Sonic or one of 18 colorful characters, you will compete with up to three friends at heart-stopping speeds in three exciting multiplayer modes. With all the action, speed, and addictive gameplay that only Sonic can deliver, Sonic Riders: Zero Gravity is set for hyper-drive!
Rent Sonic Riders Zero Gravity on Nintendo WII

Buy ex-rental and earn 12 points
Reviews





its difficult to get used to the controls and the gameplay is a bit annoying but once you get used to it, its a really fun and enjoyable game.





good but might be a bit harder than thought