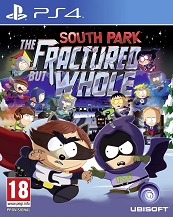 Rent South Park The Fractured But Whole on PS4





RENT IT
Released: 17 Oct 2017
Genre: Action / Adventure

From the creators of South Park, Trey Parker and Matt Stone, comes South Park: The Fractured but Whole, a sequel to 2014's award-winning South Park: The Stick of Truth. Players will once again assume the role of the New Kid, and join South Park favorites Stan, Kyle, Kenny and Cartman in a new hilarious and outrageous RPG adventure. In South Park: The Fractured but Whole, players will delve into the crime-ridden underbelly of South Park with Coon and Friends. This dedicated group of crime fighters was formed by Eric Cartman whose superhero alter-ego, The Coon, is half man, half raccoon. As the New Kid, players will join Mysterion, Toolshed, Human Kite, Mosquito, Mint Berry Crunch and a host of others to battle the forces of evil while Coon strives to make his team the most beloved superheroes in history.
Leave a review


This game is incredible for the style of graphics you feel like your actually playing a episode. The story line is as expected but i just felt it needed something which didnt consist of a mini chessboard type game. very odd. But graphics brilliant and enough to satisfy a fan and …
See full review


Same humour as the show and the first game, better combat

Really enjoyed this game, it feels like your playing a extended episode of the TV show. I put 32 to hours in to it, loved the humour, even if the fart jokes do start to wear thin by the end. Id highly recommend any fan of the show to put this on the their rental list.