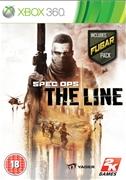 Rent Spec Ops The Line on XBOX360





RENT IT
Released: 29 Jun 2012
Genre: Shooter

Spec Ops: The Line is a narrative driven, 3rd-person military shooter, set in a sandstorm ravaged, war-torn, present day Dubai. It's been six months since Dubai was wiped off the map by a cataclysmic sandstorm. Thousands of lives have been lost, including those of American soldiers sent to help evacuate the city. Today, the city lies buried under sand - the world's most opulent ruin. Now, a radio signal is broadcasting from Dubai. A Delta Force team is sent to infiltrate the city and find its source. Their mission is simple: Locate survivors and radio for evacuation. What they find is a city in the grip of a violent struggle for control. In order to fulfil their mission, they'll have to find the man at the heart of this madness - the elusive Col. John Konrad.
Leave a review


Very story orientated shooter and what a story it is. Two playthroughs will net you the full 1000G and no online achievements. If this had some co-op stuff it would been the perfect game.

Fantastic Shooter, breaks the manotamy generic of the Call of Duty generation shutter games.

Surprised how much I enjoyed this, solid shooter with a half decent story line.