Spiderman Web Of Shadows XBOX360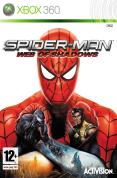 When a deadly symbiote invasion devastates the streets of New York City, only Spider-Man can seize control and bring the city salvation. From the game's direction and outcome through to Spider-Man's destiny, Spider-Man: Web Of Shadows puts control in the player's hands.

Gamers decide when to switch between the agile Red Suit and powerful Black Suit, whether to ally with Marvel's honoured heroes or ferocious villians, which of Spider-Man's abilities to upgrade and what missions to undertake in order to protect Manhattan from certain annihilation.
Rent Spiderman Web Of Shadows on XBOX360

Buy ex-rental and earn 12 points
Reviews





Rented this because I loved the spidermans on ps2, found it short and sweet :) Wouldnt buy, but defo worth the rent!





This is the best spider man game... was disappointed on the swinging because the web goes in the air which i thought was great on spidey 2 the movie but you still need to be around buildings to swing. its not to challenging but its also not too easy. The story line is like resident evil and it was great working with as a team and the choice of being good and bad.





Spiderman:WOS is a fun game that is definitely worth a rent. It will appeal to Marvel and non-Marvel buffs alike. The GTA style, "open-world" is engaging enough through to the end despite the missions being a bit repetitive and a number of the bosses repeating in different 'forms'. However the fight mechanics work well (you get a good feel for Spiderman's super-human agility) and the mid-air fights never get boring! So I happily played the game to completion over a couple of nights. My only complaint really is that the game starts to chug a bit near the end when the city gets chock-full of baddies and it did actually crash on me 3 times. Despite that I was glad I rented it and I was happy with all the achievement points I gained on only one play through.





My son loves this game. After playing it for only a couple of days he went out and brought it. Has a nice "sandbox" feel to it. 80/100





Best Spiderman game to date,well worth playing.