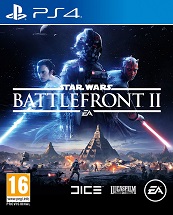 Rent Star Wars Battlefront II on PS4





RENT IT
Released: 17 Nov 2017
Genre: Action / Adventure

Master your own Star Wars hero's journey. Embark on an endless Star Wars action experience from the bestselling Star Wars HD videogame franchise of all time. Rush through waves of enemies on Starkiller Base with the power of your lightsaber in your hands. Storm through the jungle canopy of a hidden Rebel base on Yavin 4 with your fellow troopers, dispensing firepower from AT-STs. Line up your X-wing squadron for an attack on a mammoth First Order Star Destroyer in space. Or rise as a new Star Wars hero – Iden, an elite Imperial special forces soldier – and discover an emotional and gripping single-player story spanning thirty years.
Leave a review


Great game! Story line is very good! Would recommend!

Great game

Great game. Has a single player campaign. Sadly, the multiplayer was beset with pay-to-win mechanics and the fan favourite co-op wave based missions from Battlefront 1 have been replaced with a kill limit (set by you) swarm based co-op with no vehicles.