Super Mario Galaxy Nintendo WII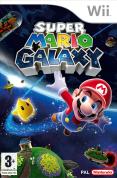 When some creature escapes into space with Princess Peach, Mario gives chase, exploring bizarre planets all across the galaxy.

The ultimate Nintendo hero is taking the ultimate step... out into space. Join Mario as he ushers in a new era of video games, defying gravity across all the planets in the galaxy. Players run, jump and battle enemies as they explore all the planets in the galaxy. Since this game makes full use of all the features of the Wii Remote, players have to do all kinds of things to succeed: pressing buttons, swinging the Wii Remote and the Nunchuk, and even pointing at and dragging things with the pointer.
Â
Rent Super Mario Galaxy on Nintendo WII

Buy ex-rental and earn 12 points
Reviews





Best mario game since mario world





great game, excellent gameplay and puzzles :oD





just magical and amazing





you can see why this was voted game of the year for 2007. If you played super mario on 64, this is just a tidier version of it which much more variety to the game play. A must have for everyone