Super Mario Galaxy Nintendo WII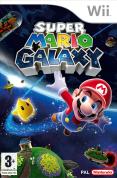 When some creature escapes into space with Princess Peach, Mario gives chase, exploring bizarre planets all across the galaxy.

The ultimate Nintendo hero is taking the ultimate step... out into space. Join Mario as he ushers in a new era of video games, defying gravity across all the planets in the galaxy. Players run, jump and battle enemies as they explore all the planets in the galaxy. Since this game makes full use of all the features of the Wii Remote, players have to do all kinds of things to succeed: pressing buttons, swinging the Wii Remote and the Nunchuk, and even pointing at and dragging things with the pointer.
Â
Rent Super Mario Galaxy on Nintendo WII

Buy ex-rental and earn 15 points
Reviews





great game, excellent gameplay and puzzles :oD





Very good game! Not as good as the sequel (Mario galaxy 2, of course!) but still worth at least a rental.





Great fun and a highly addictive game, that the whole family have thoroughly enjoyed. Not too difficult to do once you get into it though not without challenge either as a couple of the 'suits' are a little difficult to control. You'll find lots of levels, much to do and even more to see. The 3D aspect of playing a Mario game is brilliant and you get all the regular Mario characters so anyone familar with Mario games (and who isnt) will love the familiarity but the gameplay is better than any other Mario game I have played. If ever there was a must-own Wii game then Super Mario Galaxy is the one - we had to buy it just to see what is on the other galaxies. If I can think of anything negative to say then its the fact that you have to finish a level in order to save progress otherwise you loose the stars you have gathered since the last save this usually meant we were up till 2 or 3 in the morning just trying to get to the next level!! But then any decent game keeps you up at night so is that a negative?





good game.. must play at least once





Good game





We love this game. Can be a little confusing at times but the overall game is great





just magical and amazing





you can see why this was voted game of the year for 2007. If you played super mario on 64, this is just a tidier version of it which much more variety to the game play. A must have for everyone





I was totally addicted to this game and thought it was great. My kids were not allowed to play it because I wanted to all the time. It was quite easy to understand and my 5 year old knew how to do certain levels. I recommend this game to anyone it was great.!!!!





Great game, nice use of the wii controls and visually appealing. Definitely recommended, one of the best games available for the wii at the moment.