Super Monkey Ball Banana Blitz Nintendo WII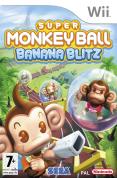 AiAi and friends come to the Nintendo Wii! An all-action extravaganza of unique new puzzles and madcap multiplayer gameplay, Super Monkey Ball: Banana Blitz takes the ground-breaking Nintendo Wii controller and shows the world exactly what it can do! Get stuck into scores of new puzzle levels and a barrel-load of thrilling new party games, all specifically designed to take spectacular advantage of the pioneering Nintendo Wii controller. One for you and every last one of your friends, Super Monkey Ball: Banana Blitz takes the classic, fan-favourite Monkey Ball gameplay and adds a whole new world of fun.
Rent Super Monkey Ball Banana Blitz on Nintendo WII

Buy ex-rental and earn 15 points
Reviews





Not bad. My eldest two kids (9 and 7) played it quite a bit, but I know they found it hard to get used to the controls at first. One to rent rather than buy (unless it's really cheap) I think.





Graphics and Game Play is good but the Controls are a let down





Wicked Family game, spent hours competing against each other





Very good collection. My children aged 11 and 9 loved it. Both are left handers so not sure what the previous comment is getting at. 50 mini games means there is something for everyone. Agreed, there is not much depth to this title but if you think of it as a magazine rather than a book it has a lot of entertainment value.





I bought the Gamecube just for the Monkey Ball game back some years ago ... I therefore could not wait to play it on the Wii. I was sadly dissapointed - the controls just don't quite make it and the game has been made far more simplistic because of this. They have also seemed to concentrate on the mini games this time. If you have never played Monkey Ball then have a go at this version else "rent" and have a go!





A Shockingly bad addiction to the super monkey ball series. I suggest if you are left handed you do not get this, it's more tilted to people who are right handed. The puzzles are not too complicated, and the mini games are poor standard completly. Worth a rent, but that's all.





Another in the growing number of mini game titles. What can I say - it's ok but only ok. Wario was funnier.