Super Monkey Ball Banana Blitz Nintendo WII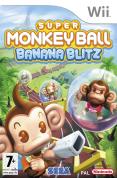 AiAi and friends come to the Nintendo Wii! An all-action extravaganza of unique new puzzles and madcap multiplayer gameplay, Super Monkey Ball: Banana Blitz takes the ground-breaking Nintendo Wii controller and shows the world exactly what it can do! Get stuck into scores of new puzzle levels and a barrel-load of thrilling new party games, all specifically designed to take spectacular advantage of the pioneering Nintendo Wii controller. One for you and every last one of your friends, Super Monkey Ball: Banana Blitz takes the classic, fan-favourite Monkey Ball gameplay and adds a whole new world of fun.
Rent Super Monkey Ball Banana Blitz on Nintendo WII

Buy ex-rental and earn 12 points
Reviews





Graphics and Game Play is good but the Controls are a let down





Very good collection. My children aged 11 and 9 loved it. Both are left handers so not sure what the previous comment is getting at. 50 mini games means there is something for everyone. Agreed, there is not much depth to this title but if you think of it as a magazine rather than a book it has a lot of entertainment value.