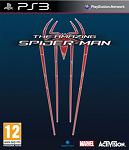 Rent The Amazing Spiderman on PS3





RENT IT
Released: 29 Jun 2012
Genre: Action / Adventure

Go beyond the movie to experience what it's like to be Spider-Man like never before. Set shortly after the events of Columbia Pictures' new film, The Amazing Spider-Man throws New York City's brand new hero back into free-roaming, web-slinging action, as he protects the Big Apple from a deluge of unimaginable threats. Experience the new Web Rush mechanic as Spidey twists his way through the NYC skyline with unprecedented speed and grace. The game's original story also explores beautiful indoor environments, as you'll encounter everything from skirmishes with everyday street thugs to pulse-pounding confrontations with Spider-Man's most lethal foes.
Leave a review


Pretty good, and an easy platinum. Imagine a budget Batman Arkham game.

Quite a fun game to play - 10-13hours to complete (less if you just do the chapters instead of all the side missions too). Patience is needed for all the collectables but still a fun game.

excellent game, graphics and story was great there is allot to do in the city 10/10