Tom Clancys Splinter Cell Conviction XBOX360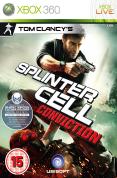 Sam Fisher. Off the grid. Outside of the system. Looking for the truth.

For years, Sam Fisher has been off the grid and on his own, tracking his daughter's killer. The trail leads to the last place Sam wants to see again: Washington D.C. Now Sam must work with old friends he can no longer trust, forced to save a country that used him and threw him away. Unless he can stand against both a vast, faceless enemy and a corrupt Third Echelon, he'll never know the truth of what happened to his daughter.

Become an enemy of the state, embroiled in a conspiracy that leads all of the way back to Capitol Hill, in Tom Clancy's Splinter Cell: Conviction.
Rent Tom Clancys Splinter Cell Conviction on XBOX360

Buy ex-rental and earn 18 points
Reviews





Not as good as the previous 3 but still one of the best games you can get.





Excellent game, nice to finally be able to say I have finished a splinter cell game! Less stealth based than previous games





Took a While to get into it but thoroughly enjoyable once i had got used to the controls. Great story and well told, co-op story was excellent too.





Decent story line, didn't play online. Quick delivery. Overall a good experience.





An great action game. I never got into the previous games in the series but this one works very well, and has a very good immersive storyline. My only gripe is that the cover system on occasions can be unhelpful but it hasn't spoilt my enjoyment of this top title





Good game, worth a rental or purchase.





Great game, really nice single player and great multiplayer. I have really enjoyed whole story and Sam Fisher character as its very close to Bourne etc.





Brilliant Game. I usually hate all of the Splinter Cell Games but this one is amazing. Im not into stealth games really i like all the run and shoot stuff but give this game a try its brilliant.





Great game, very polished. The stealth is very good with lots of fun ways to take people out. Rather short single player though and the story wasn't as interesting as Alpha Protocol. Well worth a rental though. 90%





Very good game that will keep you hooked while playing. short story line completed most of it in 1 evening and 1 morning. good gameplay stealth is awesome! Haven't had a chance to play deniable opps yet but will be trying it shortly. quite hard to get the hang of, but once you have you don't want to stop. on one or two levels there's some unnecessary swearing but except for that its not very rude. interrogations are very violent not to play when young kids are about but general game play is usally not very violent.