Tomb Raider PS3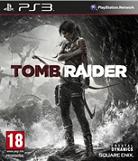 After a brutal storm destroys the boat she was travelling on, a frightened young woman is left washed ashore on an unknown beach. On her own but not alone she has only one goal, to survive.
Here begins the first adventure for a young and inexperienced Lara Croft in a story which charts the journey of an ordinary woman who finds out just how far she must go in order to stay alive.
Armed with only the raw instincts and physical ability to push beyond the limits of human endurance, Tomb Raider delivers an intense and gritty story into the origins of Lara Croft and her ascent from a frightened young woman to a hardened survivor.
Rent Tomb Raider on PS3

Buy ex-rental and earn 12 points
Reviews





Improved uncharted, good graphic and gameplay 10 out 10





Played Tomb Raider games from day one, I like them all, best one so far A+





best tombraider ever. like action/adventure, you will love this





Loved it, might rent it again.





Brilliant game. Really enjoyable campaign, not enough players online to enjoy multiplayer however.





A well polished game.





Best tomb raider game since tomb raider 2. Awesome





Stunning game, really enjoyed it. Some slight issues with crosshairs not being visible all the time but apart from that a masterpiece on a par with Unchartered





A big improvement on recent tomb raiders. Good game.





Excellent game. Back to the Tomb Raider of old but with top graphics. Only downside is, it was to short.