Too Human XBOX360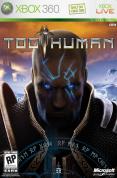 Step into the world of Too Human, the next-generation third-person epic action game from renowned Canadian developer Silicon Knights. As the cybernetic god Baldur, you are thrust into the midst of an ongoing battle that threatens the existence of mankind. An ancient machine presence has forced the god�s hand. In the first part of a trilogy, Baldur is charged with defending humanity from an onslaught of monstrous war machines bent on the eradication of human life.

In Too Human, players are treated to a nonstop barrage of action powered by the seamless integration of melee and ranged firearms combat and fueled by breathtaking visuals enabled by the powerful combination of Xbox 360 and the Unreal Engine 3. Battles unfold in awesome scale as players engage with vast numbers of enemies. Gamers take it to the next level by playing the entire single-player campaign in multiplayer co-op mode via Xbox Live or system link.
Rent Too Human on XBOX360

Reviews





Great game. Once you get into it lots upgrade And side missions to explore. Amazing scenes And landscapes. Plenty of game playing time.





I loved the game, loved the gameplay, and the online modes, just one thing out of everything I didn't like. Repetition. This is the only thing that stopped it getting 100% for me. But overall, amazing game.





disapointing game, repetitive and fairly pointless. controls should be developed better, can be frustrating and long at times. but has a great science fiction/fantasy storyline going on. diverse and the graphics are good.





A little bit dissapointing after all that wait. Not a bad game, but far from great. A real shame.





Well this is one game I have waited for since I first got my 360 nearly 3 years ago ! Was it worth the wait ? Well in my opinion YES ! it's a great game and if you enjoy Viking mythology then you will not be disapointed. The only thing that lets this game down is how short it is, but saying that there is plenty to keep you busy for some time, what with the armor sets etc that need many play throughs to collect. Coop is great fun too, although you miss out on the story in this mode.