Trivial Pursuit XBOX360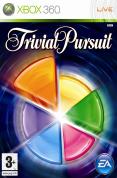 With dynamic visuals, new questions and question types, TRIVIAL PURSUIT on console brings the party to the living room TV allowing players to customize the experience with several ways to play.
What do you know? – Challenge your friends with the original fun TRIVIAL PURSUIT game.
Who do you know? – Earn extra points by guessing whether your friends know the answer in the all-new quickly playing Facts & Friends mode.
Do you know yourself? – Track your best categories over time with your custom TRIVIAL PURSUIT profile.
Players can hone their knowledge with the Clear the Board single player mode.
Rent Trivial Pursuit on XBOX360

Reviews





Good family game some of the additonal packs which can be downloaded adds to the questions on offer.