Uncharted 2 Among Thieves PS3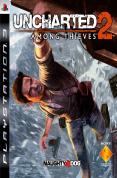 Fortune hunter Nathan Drake returns in Uncharted 2: Among Thieves, a pulse-pounding third-person action-adventure/shooter created by award-winning developer Naughty Dog and exclusive to PlayStation 3.
Down on his luck, Drake is lured back into the treacherous world of thieves and mercenary treasure-seekers he had sought to leave behind. When a mysterious artifact propels Drake on an expedition to find the legendary Himalayan valley of Shambhala, he finds himself embroiled in a dangerous game of cat-and-mouse against a fugitive war criminal who's after more than just the fabled riches of the lost city.
Caught in a web of deception and plunged into an increasingly deadly pursuit that tests the limits of his endurance, Drake will be forced to risk everything - but has his luck finally run out?
Rent Uncharted 2 Among Thieves on PS3

Buy ex-rental and earn 12 points
Reviews





Much better than the first one, really enjoyed playing this game, graphics are top notch A+





This game is very good it was the first game i have ever completed on the PS3, it is filled with high octane action sequences which ill keep you intrigued for hours. This is a much needed game for your ps3 collection.





Brilliant game thoroughly enjoyed great service too.





good game gets bit all the same





Meant to be one of the greatest Playstation exclusives. Although the graphics are indeed outstanding, I personally feel the gameplay is much of the same; it feels like a watered down the mechanics of Assassins Creed, the cover system of Gears of War, and the overall feel of the Tomb Raiders. As for the narrative this also feels like much of the same; a typical action/adventure story.





Simple one of the best games I've ever played.





missed the first game, but will be geting it after this, great story which twist and turns good game play and a good length single play mode which makes a change from all the other games around that mainly consentrate on online play





Brilliant game, almost feels like a movie.





excellent game fully entertaining and original





Excellent game! If you enjoyed the first Uncharted then I definitely recommend this. A lot of improvements have been made, it would be a very long list if I were to name them all but in short, almost every aspect of the game has been improved some way or another (some small difference, some large difference). Most notably the graphics are stunning, better than the 1st which is saying something since the 1st looked great too. Some annoyances have been removed too, like the bizarre head duck maneuver that the baddies would do if you shot them near the head. The game is longer too at 26 chapters. There's also multi-player although I didn't get a chance to play any of that. The puzzle difficulty is the same as the 1st game, i.e. not the most difficult in the world but still fun. It isn't a puzzle game anyway so it shouldn't factor in to your decision of whether to buy this game. The voice acting in the game was done really well too, Drake manages to pull off some funny bits of dialog. This time the game is more centered around the adventure aspect rather than gun fights. There's still plenty of shooting involved but less so than the first as stealth kills take on a more important role. Story: 85/100 Graphics: 100/100 Music: 85/100 Gameplay: 95/100 Overall: 91/100