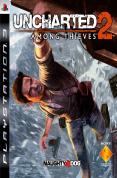 Rent Uncharted 2 Among Thieves on PS3





RENT IT
Released: 16 Oct 2009
Genre: Action / Adventure

Fortune hunter Nathan Drake returns in Uncharted 2: Among Thieves, a pulse-pounding third-person action-adventure/shooter created by award-winning developer Naughty Dog and exclusive to PlayStation 3.Down on his luck, Drake is lured back into the treacherous world of thieves and mercenary treasure-seekers he had sought to leave behind. When a mysterious artifact propels Drake on an expedition to find the legendary Himalayan valley of Shambhala, he finds himself embroiled in a dangerous game of cat-and-mouse against a fugitive war criminal who's after more than just the fabled riches of the lost city.Caught in a web of deception and plunged into an increasingly deadly pursuit that tests the limits of his endurance, Drake will be forced to risk everything - but has his luck finally run out?
Leave a review


Much better than the first one, really enjoyed playing this game, graphics are top notch A+

This game is very good it was the first game i have ever completed on the PS3, it is filled with high octane action sequences which ill keep you intrigued for hours. This is a much needed game for your ps3 collection.

Brilliant game thoroughly enjoyed great service too.