Uncharted Golden Abyss (PSVita) PSVITA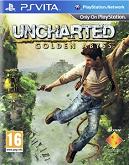 *** Please Note PlayStation Vita titles are not compatible with standard Sony PSP consoles ***
Â
Uncover the dark secret of a lost Spanish expedition massacred 400 years ago deep in Central America - and join legendary fortune hunter Nathan Drake in a brand new epic adventure for PlayStation Vita.

Surrounded by temples, ruins and forgotten legends, Nathan finds himself caught in the middle of a bitter rivalry between old friend Jason Dante and Marissa Chase, granddaughter of the eminent archaeologist called in to investigate the site - who has mysteriously vanished without a trace.
Rent Uncharted Golden Abyss (PSVita) on PSVITA

Buy ex-rental and earn 18 points
Reviews





Truly amazing game. Hope they do another prequel.