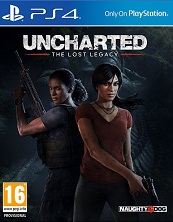 Rent Uncharted The Lost Legacy on PS4





RENT IT
Released: 23 Aug 2017
Genre: Action / Adventure

From critically acclaimed developer Naughty Dog comes the first standalone adventure in Uncharted franchise history led by fan-favourite character, Chloe Frazer. In order to recover a fabled ancient Indian artefact and keep it out of the hands of a ruthless war profiteer, Chloe Frazer must enlist the aid of renowned mercenary Nadine Ross (from Uncharted 4: A Thief's End). Venturing deep into India's Western Ghats mountain range, Chloe and Nadine must learn to work together to unearth the artefact and fight their way through fierce opposition to prevent the region from falling into chaos. Uncharted: The Lost Legacy will come with access to Uncharted 4: A Thief's End Multiplayer and Survival modes. Online multiplayer on PS4 requires a PlayStation Plus membership.
Leave a review


Its developed by Naughty Dog, so you can trust it to be a very good game. I feel it is better than the normal Uncharted games as it is shorter and the narrative is much more precise.

Great graphics and a lot of fun to play.

Beautiful graphics and nice little side story from original series, Game was released as a cheap title so duration of game was expected but still still worth the time.