Virtues Last Reward (PSVita) PSVITA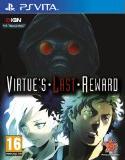 *** Please Note PlayStation Vita titles are not compatible with standard Sony PSP consoles ***
Everybody dies... ...can you escape the inescapable?
Kidnapped and taken to a mysterious warehouse, Sigma awakens in an elevator with a girl named Phi. He soon discovers that there are seven others playing a sick game of life or death with guidance from a mysterious rabbit named Zero III.
Their mission: survive and escape the warehouse. But with secrets, betrayal and intrigue everywhere, who will survive this warehouse of hell?
Rent Virtues Last Reward (PSVita) on PSVITA

Buy ex-rental and earn 18 points
Reviews





Best Vita game bar none.