We Rock Drum King Nintendo WII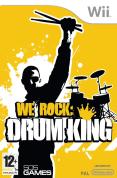 **** 2 Wii remotes required***
Unlike many rhythm games, to become a music legend in We Rock: Drum King you only require two Wii Remotes, rather than having to clutter your living room with potentially expensive instruments. The remotes become your virtual drumsticks as you beat your way through 30 awesome tunes, including Bloc Party's Banquet and Born To Be Wild by Steppenwolf.

You start on the road to fame by creating your drummer and then joining a band, before performing in a range of increasingly spectacular venues – until you're crowned the greatest rock band in the world.
Rent We Rock Drum King on Nintendo WII

Reviews





This is a great game. Lots of fun for a group of friends to play together and get the spectators rocking! Makes you feel like a real drummer! Only thing that's a little disappointing is that the buttons also control other elements of the kits. Be great if there was a drum kit you could buy to go along with the game. Maybe there is? Really recommend renting this game well worth it. In fact I've bought it now.