XCOM Enemy Unknown XBOX360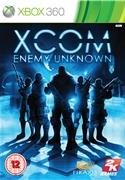 XCOM: Enemy Unknown will place you in control of a secret paramilitary organisation called XCOM. As the XCOM commander, you will defend against a terrifying global alien invasion by managing resources, advancing technologies, and overseeing combat strategies and individual unit tactics.

The original X-COM is widely regarded as one of the best games ever made and has now been re-imagined by the strategy experts at Firaxis Games. XCOM: Enemy Unknown expands on that legacy with an entirely new invasion story, enemies and technologies to fight aliens and defend Earth. You will control the fate of the human race through researching alien technologies, creating and managing a fully operational base, planning combat missions and controlling soldier movement in battle.
Rent XCOM Enemy Unknown on XBOX360

Buy ex-rental and earn 12 points
Reviews





Good game, takes a while to get through and learn it all. It is worth it if you have extra time like I did but its no blockbuster. The storyline is sound and game play is turn-by-turn not a 1st or 3rd person so not quite what I was expecting. Strangely addictive. 90% for me.





Excellent game, something a bit different and slower paced, very enjoyable.





Awesome game! Highly recommend it to all lovers of strategic/tactical combat





Excellent, just excellent





This is one of the best games i have ever played and i play a lot of games. If you like to think about what your doing while playing your games instead of just shooting your way through then this is the game for you.





I loved this game, get it.