Assassins Creed Brotherhood
XBOX360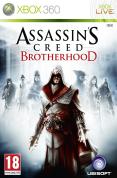 The critically acclaimed single player experience of Assassin's Creed is back and better than ever as Ezio returns in a powerful struggle against the powerful Templar Order. Now a legendary Master Assassin, he must journey to Rome, center of power, greed and corruption to strike at the heart of the enemy. Defeating the corrupt tyrants entrenched there will require not only strength, but leadership, as Ezio commands an entire Brotherhood that will rally to his side. Only by working together can the Assassins defeat their mortal enemies.
And for the first time, Assassin's Creed Brotherhood offers a never-before-seen multiplayer layer. Players can help the Templars by using Abstergo to train in the art of Assassination to eliminate the Assassins once and for all. Players can choose from a wide range of unique characters, each with their own signature weapons and assassination techniques, and match their skills against other players from all over the world in different game modes.
Buy Assassins Creed Brotherhood on XBOX360
Reviews





a very good game and hours of fun.





a bit repetitive . lot of land travel . 7 out of 10





I was someone who enjoyed the flawed first Assassin's Creed game, so to see the series very quickly improve is a Godsend. Brotherhood adds a few more features to the AC2 gameplay making it a full package with extra polish. The only real issue I have with this game is that the story based mission are extrememly boring and lacking in imagination... stick to the side misisons and collectibles though and you will find much to love





Beautiful game - shame about the online achievements.





Best AC yet. No repetetive missions like the last games and optional side missions were unique and worth playing.





I'm a big fan of the AC series but felt this game was not as good as AC2. To many challenge elements that were getting in the way of some good old fashioned exploring. Don't get me wrong the game is good, but the element of freedom seems slightly controlled.





gets a little samey, but great fun





Pretty good game story was entertaining at times was a bit repetative, would recomend





Great singleplayer. The multiplayer is too quiet but other than that the story is pretty damn good :-D





Good game, multiplayer is alot of fun