Dead by Daylight
PS4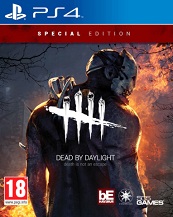 Dead by Daylight is an asymmetrical multiplayer horror game in which one crazed killer hunts four friends through a terrifying nightmare. Players take on the role of both killer and survivors in a deadly game of cat and mouse. It's a Mature Gamer take on the thrills of Hide & Seek.
Players experience two styles of gameplay -- as a survivor, from third-person perspective; or the killer, in first-person perspective. Survivors can work together or act alone using their situational awareness, while killers are on the hunt in first-person, focused on their prey. With a dynamic environment that changes after every playthrough, players must find new ways to escape the Killing Ground without getting caught.
Buy Dead by Daylight on PS4
Reviews





Amazing game, online only play but is very immersive and addictive!





Great fun





Excellent game. Slasher movie meets hide and seek, great fun.