God of War
PS4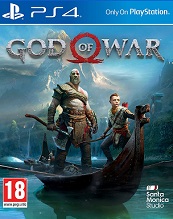 The God of War has changed… and this is not the Kratos you know.
A difficult and unfamiliar road awaits as you explore a stunning retelling of a classic story. Join Kratos as he adventures through a deep and reflective journey of growth, violence and the desire to become a better man for the sake of his son. In a world of monsters, dragons and gods, the weight of responsibility rests heavy on your shoulders – and when your life is filled with blood and chaos, how can you prevent the mistakes of the past in order to protect your future?
Buy God of War on PS4
Reviews





Highly polished and great character dialogue. Enemies very repetitive however.





Absolutely incredible, masterpiece.





amazing game! havent finished it yet, but you will not be dissapointed if you are a GOW fan! even for non fans! check it out! fantastic graphics, stroy and gameplay! this game really is a AAA.





10/10





Fantastic game. Easily one of the best this generation.





Amazing





A classic





Best game of the last few years by far - would have scored it 100 but became fed up of all the very long cut scenes - none of which could be skipped





Okay combat, decent story, worth a try but not worth a buy.





game was great, the hardest difficulty was solid!! might come back to this at another time! :)