God of War
PS4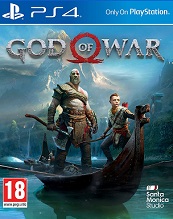 The God of War has changed… and this is not the Kratos you know.
A difficult and unfamiliar road awaits as you explore a stunning retelling of a classic story. Join Kratos as he adventures through a deep and reflective journey of growth, violence and the desire to become a better man for the sake of his son. In a world of monsters, dragons and gods, the weight of responsibility rests heavy on your shoulders – and when your life is filled with blood and chaos, how can you prevent the mistakes of the past in order to protect your future?
Buy God of War on PS4
Reviews





Awesome game with super story line. Enjoyed it. Not the best in the series though. :)





Brilliant game, one of the best games on PlayStation and ever made. The story, the graphics, gameplay and music is of the highest calibre. Any gamer owns it to themeselves, to experience this masterpiece.





A MUST PLAY GAME. I have never played a game like this, possibly the best of 2018 and one of the best of all time. Great acting (motion capture), story, game mechanics, supporting cast, everything is great.





Story was absolutely beautiful.





Really great game:D





Amazing game made all the better for the immersive father-son dynamic





Excellent! Best game I played game so far :)





Great storytelling





Amazing!





Top game