Shadows Of The Damned
XBOX360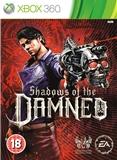 Shadows Of The Damned is an all-new psychological action thriller game from iconic Japanese developers including executive director Suda51 (director of No More Heroes), creative producer Shinji Mikami (director of Resident Evil) and music composer Akira Yamaoka (sound director of Silent Hill).

Heavily influenced by the Grindhouse style including projects from Quentin Tarantino and Robert Rodriquez, Shadows Of The Damned presents a unique vision of hell taking gamers on a twisted journey through a demented underworld where death and destruction are around every corner

Shadows Of The Damned follows a demon hunter named Garcia Hotspur deep into a hyper-demented re-imagining of hell where he must rescue the love of his life by defeating the armies of darkness with the power of the light. Shadows of the Damned delivers shocking and unique gameplay experiences that include over-the-top action, grandiose boss battles, demented puzzles, grotesque enemies, heart-pounding moments and psychotic imagery.

Working his way through the City of the Damned to get his love back, Garcia is aided by Johnson a former demon with the ability to transform into an array of vicious weapons, Garcia will once again take on the mantel of "demon hunter" and rip apart the demented forces of the underworld to protect what he loves most.

Throughout the game players must utilize the power of the light to fight the army of the dark in unique light versus darkness gameplay that will forever change the way gamers perceive puzzles, combat, and action.

Brace yourself for one hell of a trip to the city of the damned.
Buy Shadows Of The Damned on XBOX360
Reviews





Excellent story and dialogue; some really funny stuff in here that typically doesn't work well in games. The actual gameplay could be more involving and interesting, but this deserves a look.





Really enjoying this. It's fun and the puzzles involving darkness are very cool. Dialogue is spot on and definitely not for kids





A pretty solid third person action game. Good story and pacing and excellent cutscenes make for an enjoyable experience. The combat becomes a bit repetitive as the game nears its final quarter. All in all, a pretty generic third person action game made better by a great story, superb voice acting and a unique style.





A brilliantly insane game, buoyed by a puerile,.childish and brilliant sense of humour. Slight annoyances are present, such as short running time with no replay value, occassional gameplay issues and each difficulty achievement needs an entire walkthrough. Otherwise a great game, a must rent. Achievement difficulty 3/5 if that..





Although the gameplay does get repetitive fast. The voice acting and script is top notch and keeps you entertained all the way through.





One of the craziest games I have ever played but guaranteed to make you laugh. Great story, reminds me similar to Resident Evil 5 with the aiming, reloading and switching weapons. Awesome game!





Great game a must rent. I have been playing games for almost 5 years and havent seen anything like this was really fun and enjoyable. At first wasnt sure about the absense of automatic aim but was surprised how well it worked. The dialog between the two main characters (garcia and skull) were witty and interesting. The only downside was that fact that it ended very quick and hasnt got any multiplayer.





Truly awesome!





I must admit that when I first started playing I wasn't convinced I stuck with it and I'm glad i did. Dark environments off set with school boy humor and with later changes ingameplay mechanics to keep you amused looking forward to a squeal. 4 cilla blacks out of five! I hope you like dick jokes :)