Far Cry 3
PS3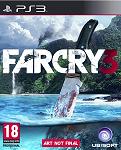 With Far Cry 3, players step into the shoes of Jason Brody, a man alone at the edge of the world, stranded on a mysterious tropical island. In this savage paradise, where lawlessness and violence are the only sure thing, players dictate how the story unfolds, from the battles they choose to fight to the allies or enemies they make along the way. As Jason Brody, players will slash, sneak and shoot their way across the island in a world that has lost all sense of morality.
Buy Far Cry 3 on PS3
Reviews





Loved it, played it non-stop.





Loved this game! Only returned because I bought it for myself to keep.





Fantastic game to play A+





like grand theft auto in the jungle, definitely worth a rent





Very fun!





Excellent Game, Main Story a touch short mind.





Amazing game. Great blend of RPG and FPS





great game





VERY VERY VERY IMPRESIVE !!! i played the first and second game and thought they were brill but where they went with this one was perfect. if ure a fan of the far cry series or even if ure new to this type of fps then this is a must buy/rent.