Far Cry 3
XBOX360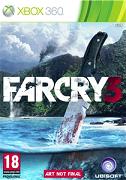 With Far Cry 3, players step into the shoes of Jason Brody, a man alone at the edge of the world, stranded on a mysterious tropical island. In this savage paradise, where lawlessness and violence are the only sure thing, players dictate how the story unfolds, from the battles they choose to fight to the allies or enemies they make along the way. As Jason Brody, players will slash, sneak and shoot their way across the island in a world that has lost all sense of morality.
Buy Far Cry 3 on XBOX360
Reviews





Brilliant game, the story is awesome the game play is awesome the skills are awesome would deffo recommend renting this title!





Best open world FPS ever!





Did not like the game but never mind thought it was quite hard graphics pretty good though and I am sure other people would like it just not for me.





Loved it 10/10





If I were you I would just rent it, as for me once I completed and collected everything, that was it for me spent 50hrs and enjoyed playing it from start to finish. Great game good story but the ending story was bad, I thought Mass Effect 3 was bad this ending is worse. I give it 10/10 Look forward to the next one.





ONE OF THE BEST GAMES EVER MADE , I RECOMMEND BUYING THIS AND NOT RENTING BECAUSE ITS JUST ONE OF THOSE GAMES YOU SHOULD HAVE IN UR COLLECTION , IF THERES ONLY ONE PART OF THE GAME WHICH I DISLIKED AND THAT WAS THE STEALTH MISSIONS WERE YOUR FORCED TO SNEAK AROUND AND ITS VERY DIFFICULT





Great game.... Shame about the slow frame rate and screen tearing, its like playing a game on my old PC