Hyperdimension Neptunia Mk2
PS3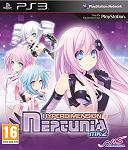 Hyperdimension Neptunia Mk2 is a sequel to Hyperdimension Neptunia and contains brand new main characters, as well as returning characters, and the gameplay has been updated so as to remove the random encounter feature. New maps and a brand new world feature as well, and the cut scenes have been upgraded to 3D from the old 2D visual novel style cut scenes.

Return to the land of Gamindustri, which is facing its darkest time. Join the Console Patron Units' sisters, the CPU Candidates, in this completely revamped and retuned parody RPG as they try to rescue their siblings and stop the revival of Arfoire, their world's nemesis.
Buy Hyperdimension Neptunia Mk2 on PS3