Monkey Island Special Edition Collection
PS3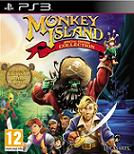 The games that introduced a brand new generation of players to the exploits and misadventures of wannabe-pirate Guybrush Threepwood are back! For the first time ever, the Monkey Island™ Special Edition Collection pack combines the critically acclaimed, and faithfully re-imagined, digital versions of The Secret of Monkey Island™:Special Edition and Monkey Island™ 2 Special Edition: LeChuck's Revenge into one swashbuckling retail pirate adventure package for Xbox 360, PlayStation 3 and PC.
Both Titles Feature:
-High-defi nition graphics: All new re-imagined contemporary art style, hand-drawn and presented in high defi nition.
-Voice Over: Complete voice over using members of the original Monkey Islandâ"¢ franchise cast members brings the story and characters to life like never before.
-Renewed music score: Re-mastered and re-recorded musical score using live instruments.
-Special Edition and Classic Modes: scene-for-scene hot swaps lets you seamlessly transition between Special Edition and Classic modes at anytime during gameplay.
-Enhanced gameplay: All new intuitive game interface and controls provide a more interactive gaming experience.
-Hint system: In-game puzzle hint system keeps the puzzles fresh and fun.
Â
Monkey Island 2 Special Edition: LeChuck's Revenge Includes All-New Features:
-Direct control: Choose how you play – use the classic point-and-click interface or the all new intuitive direct character control for a more interactive gameplay experience.
-Object highlighting: interactive object highlighting provides quicker clues to fi nding hidden objects.
-Behind the scenes art: In-game art viewer lets players view fantastic never-before-seen artwork from both the Classic and Special Edition versions of the game.
-Original developer commentary: Listen to select scene commentary from Ron Gilbert, Tim Schafer and Dave Grossman as they share funny stories and chronicle the development of the original Monkey Island™ 2: LeChuck's Revenge.
All-New Monkey Island Special Edition Collection Bonus Content:
-Never-Before-Seen-Art: Concept art from the Special Edition versions of each game.
-More Music: Full length re-mastered and re-recorded game soundtracks for each game.
-Animated Movie Storyboards: Storyboards and concept art from an Industrial Light & Magic exploration of a Monkey Island animated movie.
-Avatar Goodies: Xbox LIVE® and PlayStation®Network download codes to outfi t your avatar in the best Monkey Island gear.
Buy Monkey Island Special Edition Collection on PS3