Music (Music For Everyone)
Nintendo DS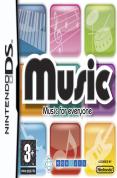 Music remains a major frustration for most of us. Only the bravest and those who could stand those boring and tough music lessons are now able to play music and live that unique experience. For the rest, you can still try to touch that feeling by playing a rhythm-based videogame and shaking a plastic guitar... but it will never sound the same.

But now with Music, a new edutainment game for the Nintendo DS, you could learn and play music in a fun and easy way! The game brings a serious music learning method to the DS developed by Shiro Tsuji. Shiro Tsuji is a famous Japanese musician, his book "Anyone Can Read Music!" and methods of teaching have been a real success in Japan!
Buy Music (Music For Everyone) on Nintendo DS